Shelby Riley, LMFT is a nationally recognized speaker with expertise in family relationships, mental health issues, clinical interventions, and practice building/business development for healing professionals. She is a dynamic speaker who uses humor and concrete tools to equip her audience to leave inspired and ready to put new knowledge into action.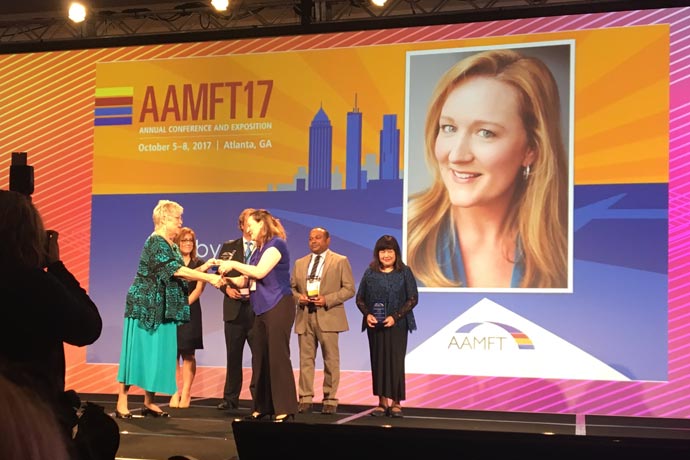 Popular Topics…
…for the Public
Co-Leadership: How to Create a Respectful Partnership at Home
Intentional Living: Creating a Work-Life Balance that Really Works
One Person, Many Hats: Honoring Multiple Roles and Talents
…for Mental Health Professionals
Time-Tested Play Therapy Techniques
Solution Focused Therapy with Couples and Families
Treating Anxiety: Partnering With Primary Care Physicians
This workshop will teach an effective brief model of treating anxiety and guide participants in partnering with clients' primary care physicians to improve client outcomes.
Building a Thriving Private Practice
Building a Thriving Group Practice
What People Are Saying
"I had the opportunity to attend Shelby's seminar and enjoyed it very much. It was the seminar I was most looking forward to and it proved to be as great as I had hoped."

Heather S.
"Shelby combines a sound clinical background with effective business savvy—she understands the challenges real therapists face in building a practice and how to address them. This was a highly motivating presentation, a real confidence builder."

Barb S.
"I feel so much clearer about my direction and my ability to follow through on my goals. I feel so empowered after Shelby's presentation."

Susan M.
Previous Presentations
6ABC Mental Health Town Hall Panel with Tamala Edwards on Covid and Racial Injustice, Philadelphia, PA: May 2021
Branding Yourself and the Profession Throughout Your Career, AAMFT Leadership Symposium, Online: March 2021
Branding Yourself and the Profession Throughout Your Career, AAMFT Leadership Symposium, Arlington, VA: March 2019
Writing Complex Characters in Fiction, Gateless Masters Luminary Podcast: November 2018
Self-Care and Avoiding Compassion Fatigue, Church World Service, Lancaster, PA: October 2018
Effective Communication and Team Building, Drexel University, Philadelphia, PA: October 2018
Blogging to Market Your Practice and the Profession, AAMFT Annual Conference, Atlanta, GA: October 2017
Transitioning to Full Time Private Practice, AAMFT Leadership Symposium, Arlington, VA: March 2017
Roundtable Discussion Leader: Private Practice Business Strategies, Healthy Divorce Symposium, Blue Bell, PA: November 2016
Rights and Entitlements in Divorce, co-presented with Cris Pastore, Esq., Healthy Divorce Symposium, Blue Bell, PA: November 2016
Practice Building 101, VA Tech MFT program, Falls Church, VA (via Skype): November 2016
Welcome to the MFT Profession, Council for Relationships Orientation, Philadelphia, PA: September 2016
The Importance of Networking, PAMFT Business Day, Plymouth Meeting, PA: April 2016
AAMFT Emerging Leaders Career Q&A: Private Practice, Webinar: March 2016
Building a Group Practice: Developing Your Career and the Careers of Other MFTs, AAMFT Leadership Symposium, Santa Fe, NM: March 2016
The Divorce Course for Women, Mental Health Component, Chester County Adult Night School, West Chester, PA: October 2015
Treating Anxiety: Partnering with Primary Care Physicians, AAMFT Annual Conference, Austin TX: September 2015
Creating a Thriving Private Practice, PAMFT Business Day, Plymouth Meeting, PA: February 2015
Market Your Practice to Primary Care Physicians, AAMFT Teneo Webinar: May 2014
Building a Thriving Practice, PAMFT workshop, Plymouth Meeting, PA: May 2014
Creating a Thriving Private Practice, PAMFT Business Day, Plymouth Meeting, PA: February 2014
Partnering with Primary Care Physicians, AAMFT Leadership Conference, Arlington, VA: March 2014
Men, Women, Communication and Marriage, The Countrymen's Club, Elverson, PA: May 2013
Creating a Thriving Private Practice, PAMFT Business Day, Plymouth Meeting, PA: February 2013
Practice Building Training, Downingtown, PA Level Two: October 2012
Practice Building Training, Downingtown, PA Level One: September 2012
Practice Building Training, Chester Springs, PA Level One: May 2012
Blogging to Market MFTs, AAMFT Leadership Conference, Arlington, VA: March 2012
Creating a Thriving Private Practice, KSU MFT grad class via Skype: October 2011
Intimacy in the Bedroom, Christ Community Church, West Chester, PA: February 2011
Mindfulness: Staying Present to Your Life, Christ Community Church, West Chester, PA: February 2011
Creating a Thriving Private Practice, KSU MFT grad class via Skype: October 2010
The Art of Communication, Valley View Community Church, Audubon, PA: April 2009
The Art of Communication, Christ Community Church, West Chester, PA: February 2009
The Balancing Act, Christ Community Church, West Chester, PA: February 2009
Co-Moderator: Clinical Challenges: Understanding Cultural Diversity and Development in Marriage and Family Therapy, PAMFT Annual Conference, Philadelphia, PA: April 2008
Raising Your Child's Emotional Awareness, Starting Forever, Exton, PA: February 2008
Identifying Depression and Anxiety in Children, Training for Paraprofessionals, TheraPlay, West Chester, PA: February 2008
Play Therapy, Training for Professionals, Peacemaker Center, Downingtown, PA: January 2008
Crisis Work with Families, Training for Professionals, Peacemaker Center, Downingtown, PA: April 2006
Key Note Speaker for Canyon View Christian Fellowship (CVCF) Church's Children's Summit, San Diego, CA: May 2005
Working with Children and Adolescents: Therapeutic Clinical Interventions, CAMFT CEU workshop, San Diego, CA: March 2005
Key Note Speaker for Canyon View Christian Fellowship (CVCF) Church's Children's Summit, San Diego, CA: May 2004